New HMS2 system host login for new placements
If you did not have a placement in progress on 28th November, you'll login to the new system now and going forward. You are done with that old system forever!
Before you log in for the first time, you'll need to reset your password. You may have already received a link to reset your password in an email from AHN. If you haven't, simply follow the prompts at https://au.homestaynetwork.org/users/forgot_password.
Once you login:
Update your room availability – This small update of your profile is imperative! Your availability is now shown by room, so if you do not update your room availability within this new system, you will not show up as an available host. Here's how:
Step 1: When you first get to your homepage, there will be an alert at the top of the page to "Add your rooms and hosting availability here". Clicking this link will take you directly to your Rooms and Availability page (you can also get there by clicking to view "Your Host Information" further down)
Step 2: Once you are on your Rooms/Availability page, you should see a window to add your first room: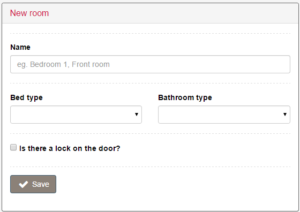 As per the above form, each room must have a name, a bed size and a bathroom type entered. Please also indicate whether or not there is a lock on the door. Once this information has been entered you can save the room.
Step 3: Please enter as many rooms as you have for Guests. Once you have entered all of your rooms you will see them displayed on the left side of the page. The only things left to do now are:
Mark which rooms are available. You can do this by either clicking the "Room Available" button on each room, or else selecting "All rooms available" from the top of the page.
Submit your rooms to AHN. You can do this by following the prompt at the bottom of the page to "Submit now".
Once you have created and submitted your rooms the left of the page should look similar to the image below: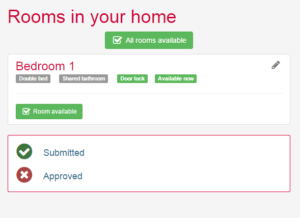 AHN will then be able to approve your rooms for Homestay placements. You're all done!